20-09-2019
Junior employees for Schäflein: New apprentices start into their vocational training
At the beginning of September, the Schäflein AG welcomed 20 new apprentices. They are going to support the locations of the transport and logistics service provider around the headquarters in Röthlein.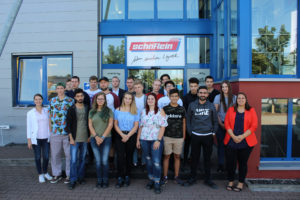 "We have doubled our business volume over the last ten years," Achim Schäflein, CEO of the Schäflein group, explains. "The training of our own junior staff therefore not only demonstrates our commitment to the region, but is also an investment into our future." As from September 2nd, the junior employees started their training as agents for office management and freight and logistics services, as warehouse clerk or professional driver.
Within the first three days of their professional career the new apprentices participated in different workshops to get to know the company with its departments and mastered a company rally. In small groups they faced challenges, which they were only able to complete with the help of existing employees. The task was designed to promote networking amongst each other and help the apprentices to overcome their reluctance to reach out to their new colleagues. "We are providing our apprentices with the necessary tools right from the beginning. Especially in the field of logistics, good communication among each other is the basis for reliability towards our customers. Therefore, it's important to involve and enable our employees early on," says Dana Prozeller, Head of Vocational Training.
Back to overview
Do you have any questions or would you like more information? We'll be pleased to help.
Just give us a call or write to us. We look forward to hearing from you.
Schäflein AG
Am Etzberg 7
97520 Röthlein
fax: +49 (0) 9723 9069-150