Logistics solutions
We having been realising demanding logistics projects for industrial companies and retail companies for decades. With our know-how and our IT systems, with the right logistics property, suitable equipment and a strong logistics team. We'll develop customised logistics solutions tailored to your requirements.
With commitment and ability we'll take responsibility for successful logistics projects – from the idea, through the concept and up to implementation. Always in dialogue as partners and in close coordination. Thus creating solutions that work in practice and are sustainably successful.
Our expertise is in logistics. We are logistics.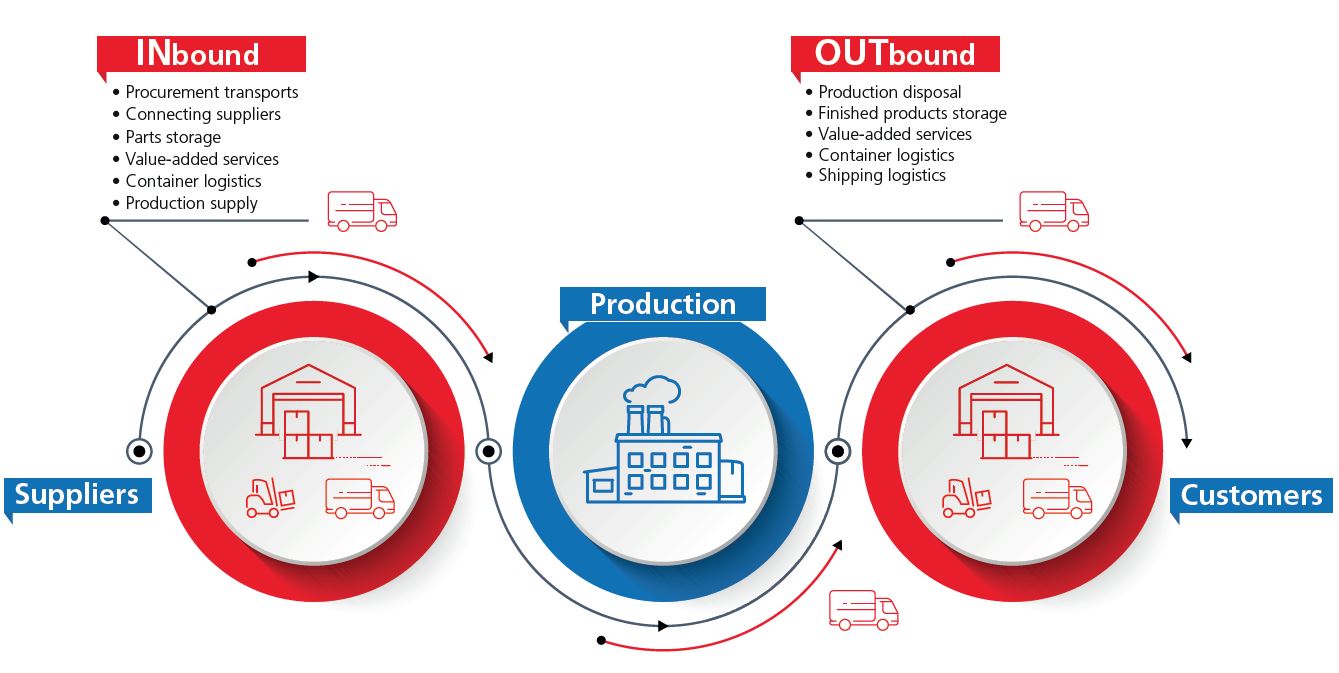 Inbound logistics

Perfectly synchronised supply of your manufacturing and production – JIT and JIS.
We supply our customers' production plants with manufacturing material and supplier components – in precisely defined time windows, just-in-time and just-in-sequence. This is how many of our locations emerge – as new-builds on greenfield sites near plants and as the central logistics platform for procurement.
Our services in inbound logistics include collection from suppliers, container management, warehouse logistics and consolidation, just as much as 24-7 order picking, packing and repacking, as well as timed transport supply into the production plant and directly into the manufacturing areas.
Outbound logistics

Distribution from the central warehouse to customers.
With our distribution solutions, we'll provide you with the backbone for customer supply. From checking goods inwards, through storage, picking, packing and up to shipping, we offer you complete logistics from one source.
Our warehouse locations in Mainfranken are connected directly to the CargoLine network and the parcel networks. So your customer consignments will be sent on their way on the same day after ordering.
Use our integrated distribution platform for your company and a holistic logistics solution with access to Germany, Europe and the whole world.

Outsourcing

We'll take over logistics – directly from you.
Industrial companies concentrate on the operating core competence "manufacturing & production" and increasingly outsource logistics externally. We know logistics outsourcing from many projects. With our experience and our possibilities we are also the ideal partner for your project.
Together with you we will realise the operational, legal and organisational implementation. Please speak to us at an early stage of your outsourcing considerations.

Supplier and consignment warehouse

Your suppliers will store for you with us.
We offer your suppliers a logistics solution to store supplier parts near your plant. This makes the parts available quickly and you can connect several suppliers to your plant via a central warehouse. In the process, we'll take over inventory management for your suppliers, provide inventory availability to you online and supply your production at precise intervals. Our supplier and consignment warehouse creates flexibility, lean processes and lower capital commitment.

Bonded warehouse

A piece of freedom for you - our open bonded warehouse.
You can store your merchandise in our open bonded warehouse free of tax and duties. During this storage no import charges will be levied. So you'll optimise your cash flow. Taxes and duties only have to be paid when the goods are actually imported, i.e. when they are taken out of storage.
We'll take care of all the formalities.

E-Commerce fulfilment

Online retail all-round carefree.
Shopping round-the clock, limitless product variety and ordering with just one click. Online retail in Germany and Europe is the growth market, with endless opportunities and potential. For every sector, for every product and for every size of company.
We know online retail and the logistics rules of the game. We are aware that online success is only possible with reliability, speed, the greatest adherence to delivery dates and uncomplicated settlement.
Benefit from our e-Commerce and retail expertise. We'll take care of the complete fulfilment. So you'll obtain a harmonious 360-degree solution, which secures your position in a differentiated and demanding market. Realise your B2B, B2C and multi-channel strategies with us.

System supplier

We supply more than single parts.
We'll take over the supporting production of individual components for you, as well as the complete assembly of modules.
As a system supplier, we offer you the entire spectrum for the provision of technically demanding products: from purchasing and producing the individual components, through assembly and production, quality inspection and documentation, up to the entire warehouse and transport logistics.
We'll invoice you a parts price – including all the individual components installed, assembly, the complete logistics and the quality agreement.

Spare parts and tyre logistics

When it's complex and urgent.
Quick reaction times, pinpoint service, 24-7 availability and worldwide distribution are the basis of successful spare parts logistics We offer well-functioning spare parts provision for capital goods and durable consumer goods.
We know and can provide the entire spectrum of spare parts. From really small parts weighing just a few grams up to replacement generators weighing tonnes, from low-value C-articles up to the high-priced special product, from slow movers up to articles that fly off the shelves. You'll find all this in our warehouse. An enormously large variety of parts and an ingenious solution for the most complex division of logistics.
Use our expertise in spare parts provision as a characteristic differentiating you from the competition, as your tool for customer loyalty and an additional source of income for your company.
We offer additional services especially for tyres, such as assembling tyres on rims, balancing the wheels, assembling pressure sensors, labelling the tyres and customs clearance on import, export and DOT management.
Find out more
Do you have any questions or would you like more information? I'll be pleased to help.
Bernd Schäflein,
Management board
Schäflein AG
Am Etzberg 7
97520 Röthlein
fax: +49 (0) 9723 9069-150