16-02-2018
Schäflein gains new customers with Klöpferholz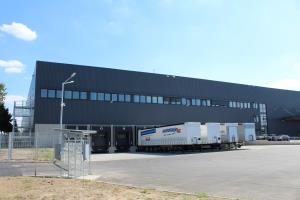 Kitzingen (Würzburg). The logistics service provider Schäflein has also been present at the Kitzingen location with a new logistics centre since the beginning of 2018. On the now well-utilised site in the conneKT Technologiepark in Kitzingen, 9 months of construction created a modern warehouse with a storage capacity of 14,000 sqm and a direct connection to the A3/A7 traffic network.
Klöpfer, a company based in Garching near Munich, uses the warehouse as a regional logistics platform. About 7,000 sqm will be freely available for Klöpferholz. On an additional 500 sqm of office and exhibition space, Klöpfer employees organise direct customer service and exhibit the product range "to touch". This includes quality trimmed timber, panels, decking/planed goods, doors and flooring. For Klöpfer, Kitzingen is an additional flagship of 15 locations in total nationwide and for the company means even better service and customer reach.
"For us as a retail company Kitzingen is an optimal location, due to the geographic location alone. We can develop our product spectrum further on this space and further optimise the logistics. In Kitzingen we have laid the foundations for our growth," says Michael Endres, Head of Logistics at Klöpfer, at the contract signing. Klöpfer will offer its entire product portfolio at the new location. Logistically, Klöpfer's customers will also benefit from shorter delivery times.
Schäflein offers storage space to customers in the rest of the hall as a multi-user location. Thus it is possible to react flexibly to new project enquiries and they are best equipped for future challenges.
Back to overview
Do you have any questions or would you like more information? We'll be pleased to help.
Just give us a call or write to us. We look forward to hearing from you.
Schäflein AG
Am Etzberg 7
97520 Röthlein
fax: +49 (0) 9723 9069-150